BBQ Blocks
Our BBQ Blocks get their name from being used to chop Whole Hog Barbeque (BBQ), the predominant Barbeque cooked here in Eastern North Carolina. Though no matter where you're form, our BBQ Blocks are built to stand the rigorous chopping required to make a fine serving of BBQ!


Not just for Pork, our BBQ Blocks come in three sizes that can be used for a wide range of purposes from carving meats to filleting fish. Each of our BBQ Blocks are made by hand and built to handle everything from cutting to slicing to chopping. You can use them for preparation or presentation. They can even replace traditional cutting boards and butcher blocks.


Following tradition, our two main BBQ Blocks are made out of Ash or Hard Maple. As a standard, we use White Oak sides for our Ash BBQ Blocks, and Maple sides for our Maple BBQ Blocks, but you can customize your very own BBQ Block with some of our other available wood species and laser etching.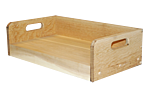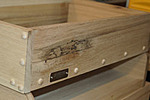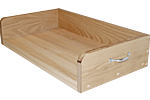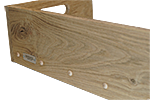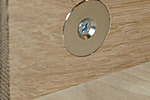 Available Sizes
BBQ Chopping Block - Small - 1.75" Thick - Hard Maple with Oak Back and Sides - Metal Handles: 26"x15"x6" - $200
BBQ Chopping Block - Standard - 2.75" Thick - Hard Maple with Oak Back and Sides - Cut in Handles: 26"x15"x8" - $260
BBQ Chopping Block - Large - 2.75" Thick - Hard Maple with Oak Back and Sides - Cut in Handles: 36"x15"x8" - $315
Magnets: 1" - $5
Options